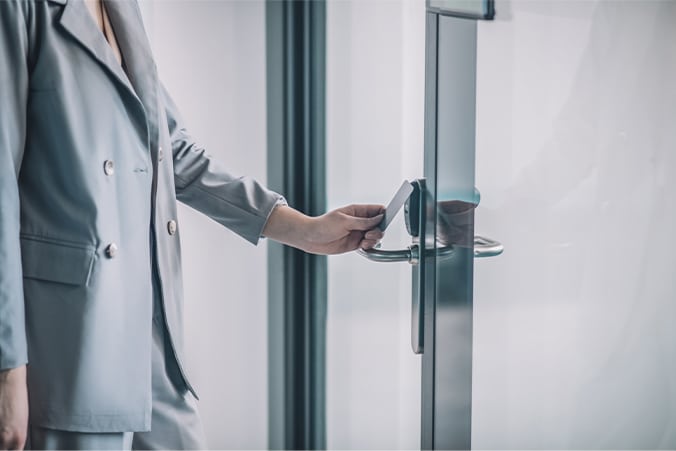 Building access control is nothing new. After all, the lock was invented sometime in the 6th century BC. The ability to restrict access has come a long way since then, and today's business owners might wish to consider a keyless entry system.
When it comes to access control, keyless is the way to go. Keyless entry systems don't require a metal key, which can be easily duplicated. They work using proximity key cards, fobs, pin pads, biometrics, or app-based access control systems. Many Nashville business owners find that keyless access control allows them more flexibility when granting or restricting access to a certain building or location.
In addition to flexibility, keyless access control systems have plenty of benefits. Just a few of these include enhanced security, easy management, remote control, data insights, and scalability.
Because keyless security systems dictate that each user has their own unique credentials, they're much more difficult for someone to copy. Further, electric door systems utilize end-to-end encryption to protect sensitive data, which is usually stored on the cloud.
Managing a keyless entry system is much easier than a traditional lock and key method. Instead of having to wait for keys to be created, issued, and confirmed as effective, a keyless system is handled by an app administrator, which utilizes cloud-based access control to grant or revoke credentials to and from anywhere. This means that a fired employee can have their access removed instantly instead of hoping they simply return their key.
Keyless entry can also be managed on a remote platform. If an employee loses their phone or key card, for example, access control administrators can grant permission and open doors from anywhere.
Another important factor making keyless entry a highly useful tool is that it allows for data insights. With an old-fashioned key method, business owners have no idea who's opening doors and when. This makes it almost impossible to maintain certain types of compliance. Since keyless entry utilizes unique credentials, business owners always know who's coming, how long they're staying, and when they're gone. This makes it easier to perform a security audit.
Those hoping to scale their businesses may also find that keyless access control makes the most sense. Considering the rate of growth found in Nashville, second and third locations are not unheard of. With keyless access control, businesses can simply install locks at these locations and grant employees from any location access without having to provide multiple keys.
If you are a Nashville business owner looking to protect your business, employees, and customers, call Clear Link Systems today. We bring the solutions to you and work as your partner from start to finish and beyond.