What is the difference between access control and security? One restricts; one detects. But they are both equally important to your Nashville business.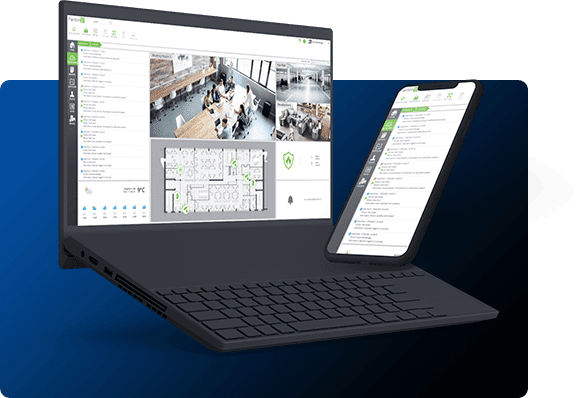 The idea of security systems and access control systems are often thought of as interchangeable, but they are two different things. While both systems are important to ensuring the safety and security of your Nashville business, they don't serve the same purpose.
Access control is a system that determines who can enter and exit a particular building or space. It involves identifying, verifying, and granting access to people or devices that have been given prior authorization. Access control systems can be either physical or digital and run the gamut from a simple door lock to an advanced biometric ID system.
On the other hand, security systems are designed to prevent, detect, and respond to security threats, such as vandalism, theft, or intrusion. These systems include components, such as CCTV cameras, motion sensors, alarms, and monitoring systems.
Different Types Of Systems
There's not just one type of access control or security system. For each category, there are two main subtypes, and it's important to know the difference between them.
Access Control Systems
Physical access control systems.

These are designed to regulate access to physical locations. These include locks, smart cards, biometric readers, and other devices. A physical access control system may also utilize RFID or NFC technology to assign credentials to someone's smartphone. A gate restricting access to the parking lot is another example of a physical barrier.
Logical access control systems.

These deal with cybersecurity and grant or deny access to networks and computer systems. These types of systems utilize authorization and authentication, like passwords.
Security Systems
Surveillance.

A surveillance system is one designed to monitor activities indoors and out. Surveillance systems are usually made up of CCTV cameras, motion detectors, and monitoring devices that may or may not record activity.
Intrusion detection system.

An intrusion detection system identifies security breaches. These usually sound an alarm and alert pertinent parties that someone has breached access into a building or location housing a company asset.
Clear Link Systems Is Your One-Stop Security Shop
Whether you are looking at a security system or the different access control systems for your Nashville business, Clear Link Systems has all of the tools and technology you need. We proudly offer both Paxton and Brivo Access Control systems, and we have a full lineup of CCTV video surveillance equipment. Our products offer comprehensive, end-to-end solutions, and we guarantee that your project will be on time and within budget.
Cabling Solutions
In addition to access control and security systems, Clear Link Systems also offers cabling solutions, which is crucial for ensuring that your voice and data cabling remains up and working all the time. This is crucial to your security and access control systems alike. Our industry leaders will work with you to determine your needs and come up with a solution that keeps your business safe, sound, and operational.
Ultimately, your business's security should never be left to chance. While there are key differences between access control and surveillance, each is important to your business, and they work together in different ways to keep your business as secure as possible. When you're looking for a comprehensive security solution for your Nashville business, contact Clear Link Systems for your no-obligation quote.
Clear Link Systems is a Nashville-based access control and security solutions provider. With more than 3000 systems installed and nearly two centuries of combined experience in A/V security, low-voltage wiring, and electrical installation, our team is fully equipped to handle business security solutions both big and small. Our mission is to ensure the safety and security of our clients in an ever-changing technology climate while staying true to our southern roots and providing unparalleled customer service. Whether you're looking for key card access or a CCTV set up, we've got you covered.